Learning By Example Series: Book 2
Analyzing Functional Conformation for the Olympic Disciplines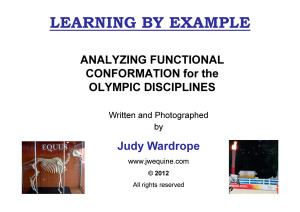 Length: 445 pages and over 600 photos, including 63 pages of workbook examples
Price: $59.95
Purchase for immediate PDF download:


Other ways to purchase »
Analyzing Functional Conformation for the Olympic Disciplines is an comprehensive, 445 page, book covering each of the three Olympic equestrian disciplines – dressage, eventing and show jumping – in great detail. It includes over 600 photographs from Wardrope's extensive collection to illustrate the concepts of functional conformation. There is also a short section covering show hunters.
Armed with knowledge gained from this comprehensive book, readers will learn what to look for, and what to avoid, when choosing a horse – for competition or for breeding purposes. A small investment in information could save horse buyers and breeders thousands of dollars down the road.
Olympic Discipline Conformation Analysis Examples
Judy Wardrope has studied the top performing horses in both sport and racing, for over 30 years, to determine what separates the best from the rest. Looking beneath the glossy coats and muscle development, she has determined that function is explained by the way each horse's skeleton is constructed and how it impacts on the horse's ability to perform at peak efficiency. "It's a matter of physics – both in regard to the equine skeleton and the tasks we ask our equine partners to perform," she says.
"Understanding functional conformation allows riders and their trainers to select mounts that are most likely to succeed in competition or on the racetrack. Horses that are built to perform specific jobs learn more easily, display fewer resistances to training and conditioning, are less prone to performance related injuries and will have longer and more successful competitive careers. Because they are happier horses, their human partners are usually happier as well."
Functional conformation, or 'form to function' as it is also called, gives breeders another tool for selecting pairings of stallions and mares to produce foals that have the functional conformation to perform well in, and withstand the rigors of, specific disciplines.
Whether the goal is to produce a horse that can jump higher, move more gracefully in the dressage ring, complete a 160km endurance race or out strip the competition on the racetrack, breeding for functional conformation will impact both the marketability of the offspring today and the entire horse industry in the future.
USEA Review:
About Judy's Books:
Judy's latest publication, Index to the Ancestors of Horses at the 2012 Olympics, is an excellent reference guide to pedigrees and relations. Not only is the sheer volume of details and cross-references impressive, but readers can easily decipher which are the most influential lines and be introduced to others. In all disciplines, Cor de la Bryere has a clear, incomparable impact. Two generations of Furioso made their mark both on the flat and over fences. How much do you know about Ladykiller or Ramiro? And who else is related to The Last Orange?
This index can be used not only to compare your own horse's pedigree to those of the horses that competed in the Olympics—because let's face it, who would not want to point out in casual conversation that their horse is related to an Olympic medalist—use it also to expand your own knowledge of worldwide sport horse pedigrees so you can participate in breeding discussions with a learned voice. Journalists and industry professionals, including breeders, will benefit from this detailed index, too, because Judy has done the fact-checking for you and compiled it into an easy to navigate, easy to comprehend, searchable digital document.
Continue studying and improving your equine expertise and take a look at Judy's latest e-book on conformation: Learning By Example, Book 2: Analyzing the Functional Conformation for the Olympic Disciplines. Here, through more than 600 photos, Judy uses the power of consistency and repetition to illustrate the concepts of Functional Conformation. Featuring many horses that competed at the Olympic Games, World Cup Finals, or World Equestrian Games, she educates the reader on what to look for in a horse's conformation depending on its intended use and shows that a horse built for the job will have an easier, and likely more successful, career.
These e-books and other literature by Judy is available for purchase on her website www.jwequine.com.
EVENTING USA I ISSUE TEN | 2012 35
I recently purchased your "Analyzing Conformation for the Olympic Disciplines" and love it. I wish I knew all this 20 years ago!                 Barb Belknap
To see what others thought of e-books by Judy Wardrope go to http://www.jwequine.com/books-by-judy-wardrope/survey-results-2/