Learning By Example Series: Book 1
Analyzing Functional Conformation of the Thoroughbred Racehorse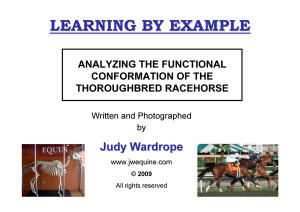 Length: 257 pages
Price: $59.95
Purchase for immediate PDF download:


Other ways to purchase »
This is a book that belongs in the library of every serious horse person.
As a comprehensive analysis of the functional conformation of the Thoroughbred racehorse, this 257 page e-book contains over 400 photographs representing horses from around the world – from yearlings to aged horses, racing and breeding stock, sprinters to super stayers and claimers to champions.
The book is the culmination of years of study, observation and data collection by renowned functional conformation expert, Judy Wardrope. For the past several years she has been helping to educate the "eye" of horse people around the globe to be able to recognize the underlying skeletal conformation of horses and to understand how that affects the athletic abilities and sport predilections of each individual horse. While pedigree plays a part in determining a horse's future, the ultimate factor determining any horse's success in sport is its functional conformation.
Whether you are a breeder, trainer, buyer, caregiver or bettor, understanding the Functional Conformation of the Thoroughbred Racehorse is crucial to your success. And if, by understanding these concepts, you steer just one horse to the right race distance, avoid buying the wrong yearling, know a horse's area of weakness in order to protect it or make better breeding decisions, you'll say that the value of this information is priceless.
Racehorse Conformation Analysis Examples
Reviews
Review from Horseracing.About.com by Cindy Pierson Dulay
---
"Most handicappers and bettors depend almost solely on past performances (what the horse has done before), few can deal with the "the never did it before"  situations: the horse that has sprinted but has never tried a distance of ground before or never dealt with mud before, never raced on turf or on synthetics before. For a handicapper and bettor, you either make an educated guess or pass the race. Judy Wardrope's research and insight has uncovered an approach and a language that solves those 'impossible' situations. She has identified skeletal structures that reveal which runners in a field have the potential to succeed in those 'never did it before' situations.' She has changed my game and made me look forward to those 'difficult' races."
Peter Mallett is the author of 'The Saratoga Stakes Handicapper', co-author of two Breeders' Cup publications, 'Crushing the Cup' and 'The Crushing Zone', and a regular contributor to racing publications and news services. 
---
"Learning by Example lives up to its name. This new and comprehensive book, by renowned functional conformation and pedigree research expert Judy Wardrope, will help both the novice and experienced horse person to more critically examine the skeletal structure of the Thoroughbred racehorse in order to understand its function, its potential for success under different circumstances and at different distances, and the pros and cons of breeding considerations.
"I bought your ebook on Thoroughbred conformation approximately two years ago and love the information. I have had success at yearling sales and consider your book one of the most valuable assets.
I am not quick with praise, but your ebook is something that I review completely before every sale."
Mel Phillips of Knights Prairie Racing
"When I began reading my copy of this book, I was fascinated. I literally couldn't drag myself away from the computer screen and the well-illustrated examples provided to accompany the text. It's a fantastic e-book and should be in every horse person's library of references. Although this book is focused on the racing Thoroughbred, the basic concepts, once understood, can be applied to other breeds and uses of horses as well. Judy clearly shows you how to identify the skeletal structures beneath the skin and muscles of a living horse and how to understand how the parts work together to create different types of movement."
Ceci Flanagan-Snow is a freelance writer and photographer whose articles have been published in both Canadian and American equine publications. She is also a regular contributor to both print and on-line sport news services.
To see what others thought of e-books by Judy Wardrope go to http://www.jwequine.com/books-by-judy-wardrope/survey-results-2/