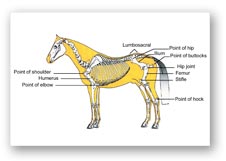 » Download the Reference Skeleton for clinic participants.
In the Improving Your Eye for Functional Conformation seminars, Judy Wardrope introduces participants to the concepts of conformation as it relates to the horse's ability to perform – in the show ring, on the racetrack, or on the trail.
Attendees learn to express structural concepts in clear and objective terms as opposed to subjective or ambiguous descriptions – valuable and transferable tools based on years of observation and study of thousands of successful competition horses.
Through the use of photographs of top horses, of actual skeletons and of failures, Judy illustrates the concepts for the audience in a logical progression and shows them in relationship to either common principles of physics, or human characteristics and their concurrent abilities.
People attending the presentation – no matter their level of experience – can expect to leave with an understanding of how skeletal conformation relates to success in the various disciplines. This information carries benefits for the selection, training and breeding of horses.
The PowerPoint presentation can be specifically tailored to a particular audience or structured for a general audience and usually runs for two or two-and-a-half hours.
In situations where it is possible to provide live horses for hands-on applications, clinic participants are shown how to identify and/or palpate the various skeletal points used in the verbal descriptions of conformational traits and how to analyze a variety of equines.
Audiences have varied in size from 15 for breed association inspectors only to over 200 at Equine Affaire, where the presentations have been consistently popular.
When questionnaires were distributed, not only were 100% of the attendees willing to attend another seminar, they said they would bring others. The most common responses mention "informative" and "entertaining" in their descriptions.